I've been on maternity leave for the past three months, having given birth to my second child in April. This is a beautiful and crazy time for any family. Going from one child to two has been a huge adjustment for us. Maternity leave is hardly ever relaxing, but this time it's been especially manic trying to balance the ever-changing needs of a newborn and a toddler. Hence, I stepped away from the "real world" for a while, not even reading news headlines for days at a time.
Now, back at work I'm somewhat perplexed at the environment I find myself in. It feels like I've come back into a different world. It seems the 'Ramaphoria' has rapidly been replaced with disillusion and runaway pessimism and I'm baffled as to how this could change so quickly and so dramatically. I'm confused by Ramaphosa's approach to the land reform saga and wonder if the EFF-type narrative will really pay off for the ANC in next year's election. Why is the tail wagging the dog? Ramaphosa is actively participating in raising unrealistic expectations, and the media is magnifying this by focusing on a few populist and extremist views.
Add to this an already struggling economy, policy uncertainty, volatile currency and high oil price and we have a recipe for disaster.
South Africans are already not very good at seeing the glass half full! I read the results of a survey, titled The Perils of Perception, that concluded South Africans tend to be the most overly pessimistic society in the world. South Africans are, on average, most likely to think things are worse than they actually are. This was based on a number of questions including whether participants thought murder rates had increased or decreased over time.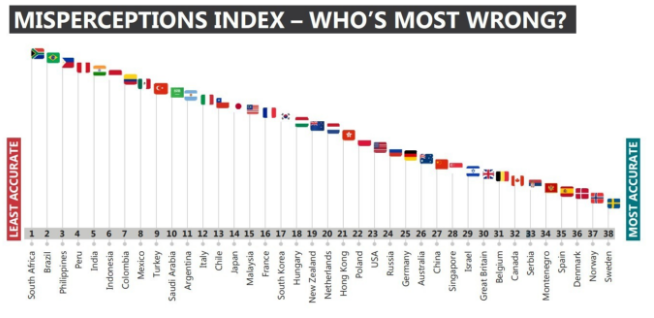 So, how do we stay positive amongst all the negativity and uncertainty?
I'm not an expert at these things, but for me, there are a few key points that will help us navigate this landscape:
We have complex issues, and our history has left us with far reaching social issues and economic inequality. This has been compounded by years of corruption and maladministration. This is not something Ramaphosa and his team can fix in a few months. Many of these structural issues (such as poor education and high unemployment) will take years to address. We need to adjust our expectations.
We are not alone. The world is an uncertain place. There are many external factors from Turkey to Trump that affect our economy, and which we have no control over.
Make decisions, especially financial decisions that give you options amongst uncertainty and unpredictability. One of the best and easiest ways to do this is to diversify your investments globally. South Africa only makes up 0,4% of the global economy. True optionality is financial independence in global terms. You need to make sure your investments have a large global allocation.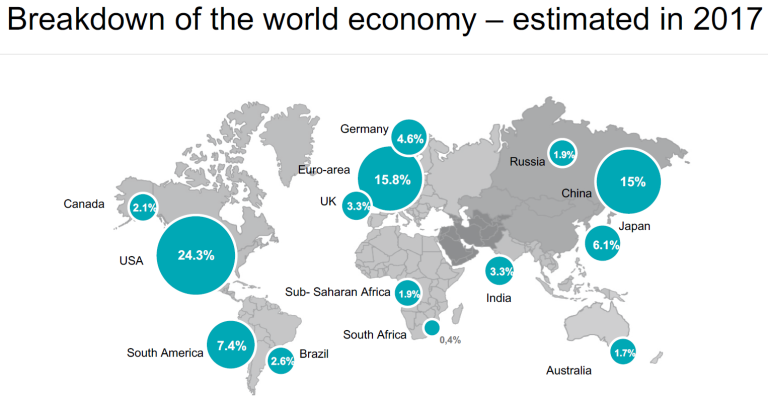 We should refrain from getting too negative. This can become a self-fulfilling prophecy. South Africa is not like Zimbabwe. We have an active civil society, free media and a world-class judiciary. I understand that there are risks and policy uncertainty is dampening economic growth, but it's unlikely that growth will come from government. The biggest catalyst will be private and foreign investment spend (the graph below shows all time high corporate deposits).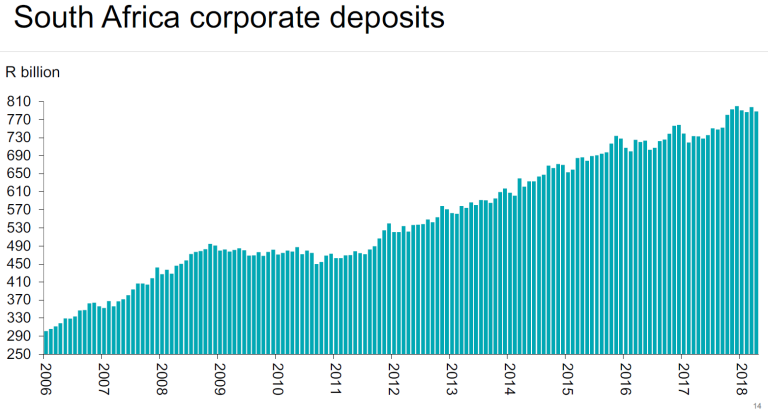 Businesses are sitting on this much cash, instead of investing, due to negative sentiment and low confidence. A change in sentiment could have a significant impact on our economy. We can only hope that the new leadership understands how powerfully their messaging impacts the sentiment and our view of South Africa and the world.
<Foundation Family Wealth is an Authorised Financial Services Provider>