When Ramaphosa narrowly (and to many's surprise) beat Dlamini Zuma for the ANC's presidency in 2017, it was a dark time for South Africans. We were on the verge of being downgraded to junk status and it was impossible to see our way out of the mess Zuma had left us in.
More than a year later, it seems we have made a lot of progress. We have a new and capable minister of Finance, new boards at all SOE's (state owned enterprises) and four state "capture" commissions of inquiry to name just a few.
Yet South Africans are still emigrating at a rapid pace and when speaking to our clients the overall mood is bluer than ever before.
We think there are some good reasons for this and see these as key influences behind the uncertainty and fear.
The party is still divided
The ANC is still deeply divided, and the Zuma faction will do everything in their power to dispose of Ramaphosa and protect their self-interests. Talks of nationalising the Reserve Bank and land reform are often controversial topics purposefully brought up to rattle Ramaphosa's cage and create uncertainty. If Ramaphosa secures a good result for the ANC in the election this year (>60%), it's likely that he will act with more authority and direction, which will certainly improve confidence.
Unforeseen risks
Land reform is a complex issue that has been neglected by the ANC for decades. Ramaphosa did not expect it to become a pressing issue, but could not allow the EFF to use it as a campaign against the ANC. Land reform needs to be addressed in a responsible way that will not impact our economy. People will remain concerned until formal guidelines have been given and the constitution amended accordingly.
Another unexpected risk is the near collapse of Eskom. A poorly functioning, mismanaged and heavily indebted Eskom could derail the economy. This is an ongoing issue impacting all South Africans. As we stock up on batteries and candles, we wait for a workable long-term solution.
We are not an island
It feels bad here at home, but the mood is actually a little blue everywhere.
We are experiencing unprecedented levels of policy uncertainty around the world, which is mainly driven by two things:
Trade wars between the US and China: this affects us because we have a small, open economy.
Monetary policy uncertainty: the US monetary policy committee (MPC) have been hiking rates in the US, but suddenly signaled that they might pause. This affects us because opportunistic funds flow to counties with higher interest rates and liquid currencies (like South Africa). These funds create even more uncertainty because it can flow out as quickly and unexpectedly as it flows in.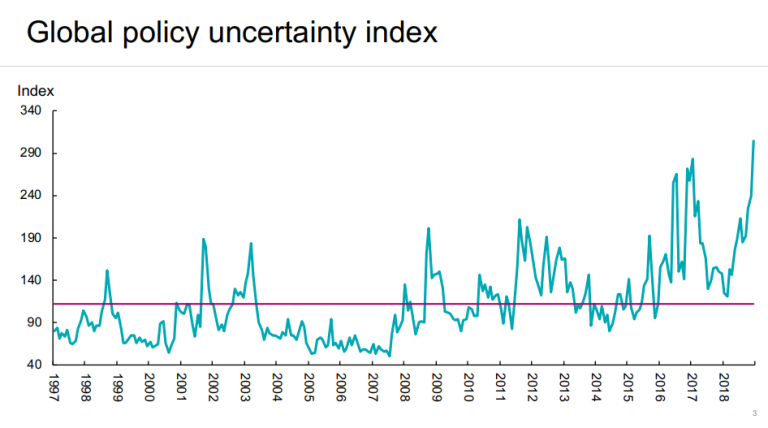 Source: Stanlib
The world is also slowing down.
US economic data is starting to show signs of weaker growth.
China is slowing.
Europe is hovering near a recession, magnified by uncertainties around Brexit.
It is very difficult for a country like South Africa to grow in an environment like this and the global uncertainties make it even harder to achieve growth targets.
Our brains do interesting things
Cognitive scientist and public intellectual Steven Pinker, urges us in his book Enlightenment Now, to step back from negative news and headlines as it plays to our cognitive biases. He argues that the media exaggerate negative news and this distortion makes us think the world is getting worse.
The notion of cognitive bias was introduced by Amos Tversky and Daniel Kahneman in 1972. It refers to those glitches in our thinking that cause us to make questionable decisions, and reach the wrong conclusions.
A good example is recency bias, where we make decisions about the future using only the recent past as reference. South Africans have experienced returns much lower than long term expectations for the past 5 years. The average return over this period is close to zero % and almost unprecedented.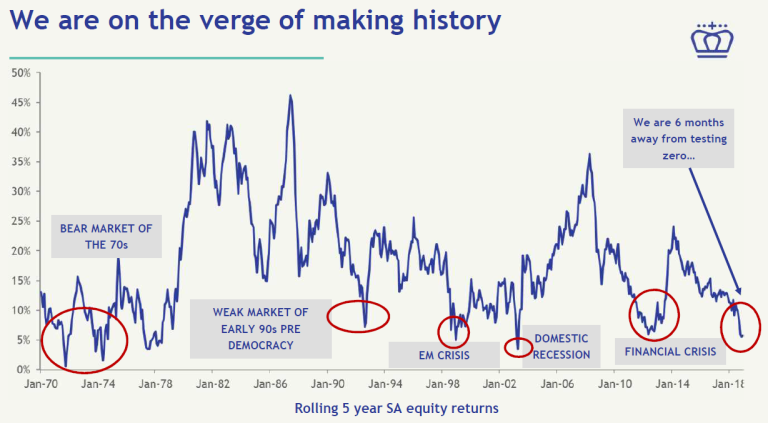 Source: Coronation
This has strongly influenced sentiment and behaviour. Coronation and Stanlib recently stated that their strongest flows for 2018 were into income type funds. Investors are therefore expecting the same going forward and opting for lower risk investments. This is not necessarily the right approach as markets can easily move quickly and strongly. If you get the timing wrong, you can destroy capital for ever.
Another example is confirmation bias. We often make decisions first and then do the research to support this decision. It's because of this bias that negative news headlines support our gloomy view.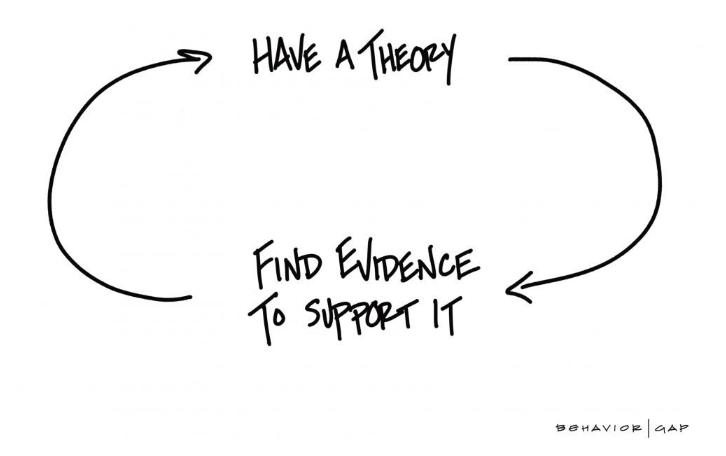 We are all guilty of these biases and experience shows us that you can protect yourself against them by:
Diversifying your investments.
Focusing on your long-term goals and objectives. This often means staying invested through uncomfortable times.
Opening yourself up to the chance that you might be wrong.
After considering all these factors you're probably thinking it feels so bad, because it is so bad. If uncertainty prevails for a long time, it can be very damaging to a country and this is exactly what's happening here.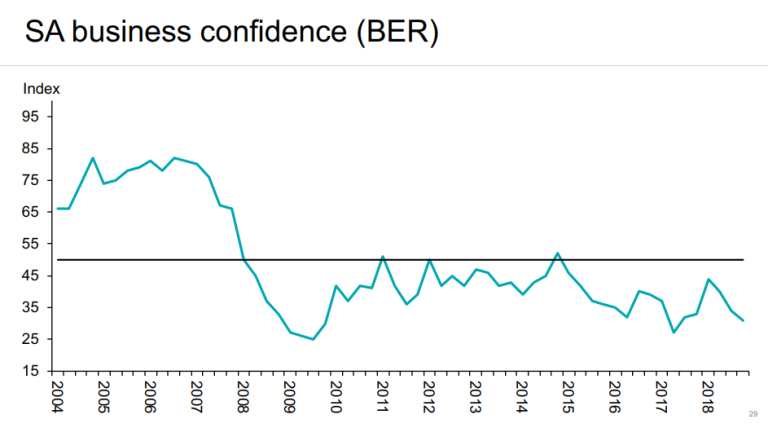 Source: Stanlib
SA business confidence has been below average for more than a decade.
However, we believe that with better leadership in place, we stand a better chance of recovery. The election is key and after the election we will be looking out for the following:
Signs of prosecution,
That the SOE's operational management improves,
More business-friendly policies.
Certainty on land reform.
Fewer parliamentarians.
These actions will send powerful signals to business and the world that the government means business. South Africa is hoping to recover while the world is slowing down. It would be challenging and slow, but not impossible.